Useful information Bucharest
Bucharest
Addresses of the main hospitals in Bucharest:
The Emergency University Hospital: Splaiul Independenței 169, +4021 / 318.0523
The Floreasca Emergency Hospital: Calea Floreasca 8, +40 21 / 599.2300
Transport
Arrivals and Departues
Participants are kindly asked to make their own transport arrangements from/to the airport. Travel options from/to the airport include taxi, bus, and train. More details can be found at http://www.bucharestairports.ro/en/transport
From the airport
The national airline is Tarom. Here is a list of its European and national routes: https://www.tarom.ro
Situated 16.5 km North of the Bucharest city centre, the Henri Coandă International Airport is the largest Romanian airport, serving 67 external destinations and 9 domestic destinations.
Ways to get to Bucharest:
Express bus
24/7 schedule, with stops right outside the arrival and departure terminals:
780 Express line, towards Bucharest North Railway Station (main railway station).
783 Express line, towards the city centre.
A one-way trip on the express line costs 3.5 lei (0.75 Euro); tickets or rechargeable cards can be purchased at the bus stop.
Taxi
Inside the airport there are touch screen terminals, for taxi orders, should customers prefer a particular company. Licensed taxis are available for passengers arriving at Henri Coandă International Airport at the terminal exit and accept passengers in order of arrival. The taxi station is located at the exit of the terminal. The distance to the city centre is about 20km.
PRICES: a trip to Bucharest is around 10 – 15 Euros, depending on distance (taxis charge about 1.69 – 3.50 lei per kilometer, 0.4 – 0.8 Euro).
Car rental
There are several rent-a-car companies in the Henri Coandă International Airport, some of them 24/7. Prices are similar to other EU states.
The trip by car or by bus to the city takes 30 – 50 minutes, depending on traffic.
Train
The "Henri Coandă Express" trains connect Bucharest Airport with the North Railway Station. The passengers can reach the CFR "Airport Stop" by shuttle buses departing from the Arrivals Terminal. Tickets for the train/transfer bus are available at the ticket office located in the International Arrivals public area, as well as from all the railway station ticket offices. One ticket costs 6,8 lei.
Bucharest public transport
Trams, buses and trolleybuses
Price for one trip: 1.3 lei (0.3 euro)
ONLY for Romanian pre-paid SIM cards or plans: a one day travel card can be purchased via SMS at 7464 (just text the letter "A"). Price – 9 lei (1.8 euro)
Operating hours: 05.00 a.m. – 11.30 p.m.
Various cards available in main stations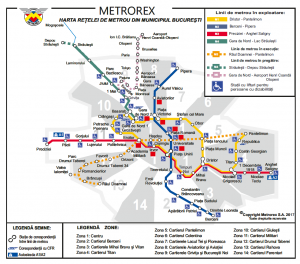 The subway / metro
Price for one trip: 2.5 lei (0,5 euro)
The 'Metro' is the fastest way around the Romanian capital, with central stations close to the main institutions and points of interest.
Operating hours: 05.00 a.m. – 11.30 p.m.
Access cards may be purchased at the stations.
Useful links:
The Romanian Presidency Website: https://www.romania2019.eu/home/
The link to the Romanian Presidency twitter account: https://twitter.com/ro2019eu