Travel
Welcome to Romania
Situated in South-Eastern Europe, Romania is bordering the Black Sea, between Bulgaria and Ukraine, and according to Jeremy Clarkson during an episode of Top Gear, Romania has the most beautiful driving road in the world – Transfagarasan! It also boasts an impressive 22 thousand kilometres of rail network, 15th most extensive on Earth, even though Romania is only the 81st country by total area.
Romania is home to many inventors and scientists, like Henri Coanda, inventor of the modern jet engine, Petrache Poenaru who invented the fountain pen, or Aurel Vlaicu, one of the pioneers of aviation, to name just a few.
At the same time, Romania can be proud of the 4 Nobel Prize laureates: George Emil Palade for Medicine, Elie Wiesel for Peace, Hertha Muller for literature and, most recently, Stefan Hell for Chemistry.
With its seven Unesco World Heritage Sites (including the beautifully painted churches of Northern Moldavia), Romania is also home to the Merry Cemetery in Sapanta, where somber epitaphs are replaced with witty poems and colourful paintings.
Sports fans will undoubtedly recognize Romania as being the birthplace of Nadia Comaneci, the first perfect 10 in gymnastics, Ilie Nastase, the first ATP number 1 of the Open Era, or Gheorghe Hagi, Romania's best ever footballer and one of the top footballers of his time.
Visitors to Romania will be very happy to learn that Romania is one of the best places in the world for Internet speeds, being constantly in the top 10 world-wide.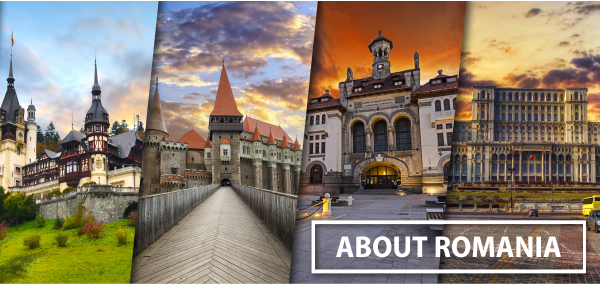 More detailed information you can find on: http://www.romania.travel/en/
Traveling to Romania
Bucharest can easily be reached from all major European cities, Otopeni airport being only 16km away from the city center (a 30 minutes journey by car).
The airport is named after Romanian flight pioneer Henri Coandă, builder of Coandă-1910 aircraft and discoverer of the Coandă effect of fluidics. Prior to May 2004, the official name was Bucharest Otopeni International Airport.
Henri Coandă International Airport serves as headquarters for TAROM, the country's national airline. It also serves as a base of operations for low-cost airlines Blue Air, Ryanair and Wizz Air.
It is also served by all major European carriers (Lufthansa, British Airways, Air France-KLM, etc.)
More information about transportation to and from Henri Coanda airport: click here.
For photos of the airport: click here.