12:00 – 13:30                                                                       JUNE 13, 2019
C.A. ROSETTI Hall
PILLAR 4 – NANO for EU RE-INDUSTRIALISATION
PARALLEL SESSION 4.1 Nano enabling technologies modernizing industry
Modernising European industry, its materials, processes and products, and maintaining competitivess is a constant challenge. Nanotechnologies and advanced materials contribute to this is several ways, som of which will be discussed in this session.
MODERATOR:
Barend Verachters, Head of Materials and Nanomaterials Unit at European Commission
INVITED SPEAKERS:
Radu Ionicioiu, Horia Hulubei National Institute for R&D in Physics and Nuclear Engineering – IFIN-HH; EU Quantum Flagship, Romania
Putting Quantum into Nanotechnologies / Towards quantum nanotechnologies
Nicolas Bécret, Nanomakers, Paris, France
Nano silicon as a key enabling technology in the framework of the present European effort to develop a battery European industry. Innovation, scale-up, industrial growth.
Henning Zoz, CEO & President of Zoz Group, Germany
Make more with less – Additive Manufacturing Process and Advanced Materials, HKP and Nanotun3D
Bert de Colvenaer, Executive Director at ECSEL JU, Belgium
A public private partnership on nano-electronic components and systems: the ECSEL JU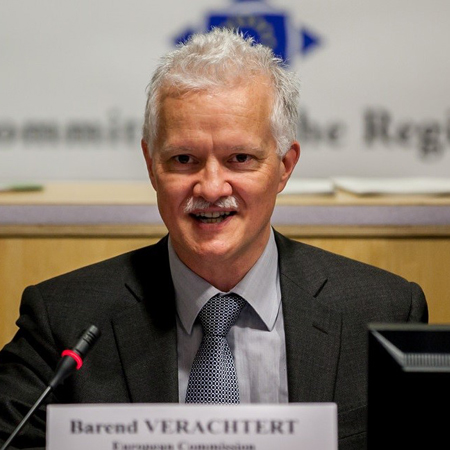 Head of the 'Materials for tomorrow', Unit Research and Innovation, Directorate-General (DG RTD), European Commission
KEYNOTE SPEAKERS (in alphabetical order)
Signup for our newsletter and stay informed with latest news!