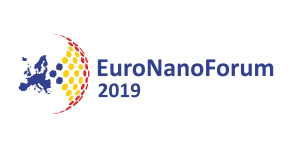 EuroNanoForum, Bucharest, Romania
NanoSafety Cluster Workshop
Friday 14th June 2019
The future of risk assessment in nanosafety
This workshop follows from the activities in Pillars 2 and 3 of day 1, and will focus on risk assessment in nanosafety and more specifically lessons learned from past research and directions for the future of the field.
H2020, and its predecessor FP7, have made a very significant investment in nanosafety research, which has been bearing fruit, particularly recently.  This new knowledge is enabling the community to understand more thoroughly what may make nanomaterials hazardous and how to address their peculiarities through building on systematic knowledge.  The acquired knowledge is being used to populate publicly available datasets that are being exploited to build predictive models of nanomaterial action and hazard. The workshop will consider nanosafety's coming of age and future directions for the field, and, importantly, how the knowledge gathered to date can support industry needs.
The session will include three presentations from experts in the field and will be complemented by an hour of active discussions on how different communities (academics, regulators, industry) might see the future of nanosafety in terms of remaining as a prominent distinct discipline or aiming to merge with main stream material safety.
Programme
Workshop organisers: Nanosafety Cluster, Carlos-Eduardo Lima-da-Cunha, Jana Drbohlavova
Chairs: Éva Valsami-Jones, Rudolf Reuther
09:00 – 11:00
Speakers
09:00 – 09:20    Vicki Stone – Combining key lessons learned from H2020 and FP7 projects to underpin the next generation of nanosafety research
09:20 – 09:40    Keld Alstrup Jensen – Risk assessment in nanosafety: tools for now and the future
09:40 – 10:00    Andreas Falk – Nanosafety and Innovation: towards safe chemicals innovation
Open discussion
10:00 – 11:00: Speakers-audience discussion    
Discussion points:
How can we ensure that nanosafety measures developed today are able to adapt to meet the new needs of technology as it advances?
Signup for our newsletter and stay informed with latest news!